North Shore High School Library Media Program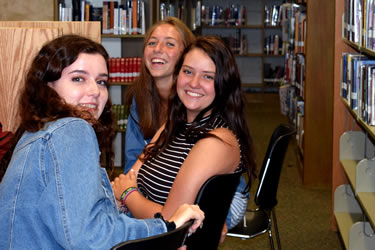 North Shore High School In-Person Library Operations COVID-19 Safety Practices
Library Space Alterations:
Repositioned or removed seating to ensure good distancing
Reduced maximum capacity
Provided sanitizer access at the library doors as well as near the bookshelves
Physical Material Handling:
Contactless book drop for returns
Quarantine of returned materials - books will be untouched and stored for 7 days
Sanitizing of hands prior to book selection will allow for safe circulation of books
Pre-ordered grab-and-go book borrowing
Through its lessons and resources, the North Shore High School Library Media Program equips our young adults to navigate and evaluate the flood of information they receive every day. Our teaching philosophy supports our variety of learners in their pursuit of information literacy. Our collections and library space support creativity, authentic inquiry, scholarly research and intellectual freedom.
Library Media Specialist
Donna Rice
Library Clerk
Joyce Reimels
Library Hours:
Monday - Friday 7:30am - 3:30pm