MS VIKING EXPLORERS HORSHOE CRAB JOURNEY (More Photos Below)
MS Viking Explorers Journey to Find Horseshoe Crab Exoskeletons
The North Shore Middle School Viking Explorers are back at it again with yet another project! This time, they built a beach scene with horseshoe crab exoskeletons that they found at their local beach.
On the journey to find horseshoe crab exoskeletons, MS teacher, Mr. Keith Slack found a horseshoe crab with a tag on its side. Students went to the website that was printed on the tag and filled out the form stating where and how they found the horseshoe crab.
Students wanted to find out more… so, they emailed one of the scientists working at the U.S Fish & Wildlife Service where the Cooperative Tagging Program began. The North Shore Middle School students waited hopefully for a response from the fish biologist, Joshua Newhard. After exchanging emails with him, the group of students planned a zoom meeting to meet with him.

While on zoom, MS Viking Explorers discussed with fish biologist, Josh Newhard, about horseshoe crabs, local beaches, and a love for all things science. Now, they are making a display of some of the horseshoe crabs the they found on the beach along with sand and shells where the horseshoe crabs were found.

-Written By Viking Explorer: Mia Pinto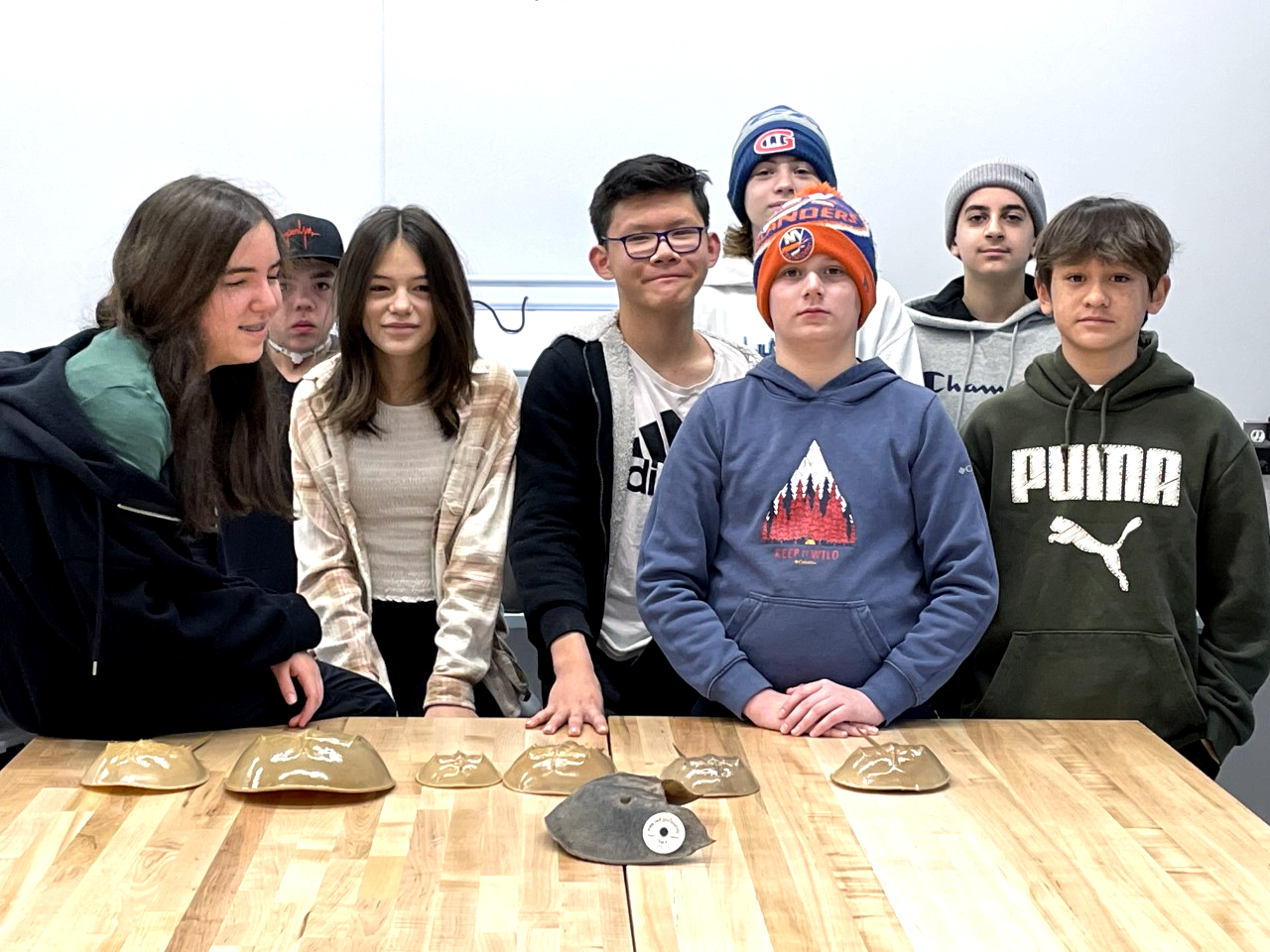 Here are some neat facts about horseshoe crabs by the Viking Explorers!
"Horseshoe crabs are in fact not crabs! They are related to arachnids and are part of the subphylum Chelicerata and classified into the Merostomata class." - Simon Kletter

"Horseshoe crabs' blood is blue! This is due to the absence of hemoglobin. Horseshoe crab blood plays an important role in human medicine. Scientists can use the blood to test sterility of vaccines, drugs, prosthetics and other medical devices."   -  Brett Cowan and Kareem Alsadoon
                                                                      
"Horseshoe crabs are living fossils! They have remained unchanged for over 350 million years! There are four different types of horseshoe crabs, only one of which lives near us. They range from Maine all the way to the Yucatan Peninsula."    -  Brandon Hsieh
Facts Cited by U.S. Fish & Wildlife Service http://www.fws.gov