ALUMNI SPOTLIGHT
Dylan Brady Performs Again at North Shore High School
Dylan Brady, a North Shore Alum, is an American country recording artist, singer, songwriter, multi-instrumentalist, producer, and activist. Dylan and his twin brother Cody attended North Shore Middle School and High School. He began playing drums at six and soon after with his twin brother started the Brady Brothers Band. In 2016, he opened for the Zac Brown Band and signed an artist development deal with Joe Don Rooney of Rascal Flatts. Rooney produced Dylan's first record, "Shifting Gears" which was released in August 2018.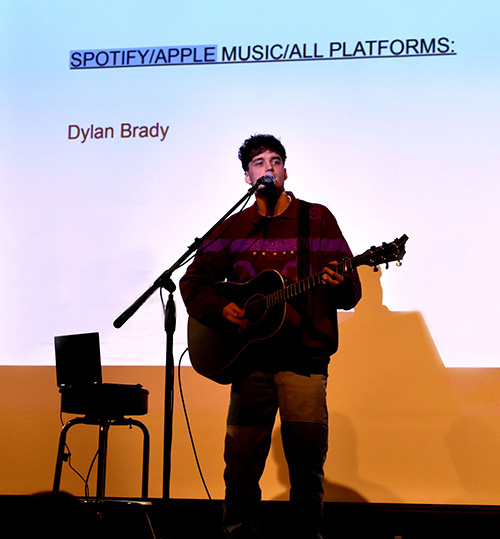 After being diagnosed with Tourette Syndrome as a high school freshman, Dylan became a Youth Ambassador for the Tourette Association for America. In 2014, he was featured in the Disney Channel's "Make Your Mark" series. During his high school years, he spoke to not only the students at the North Shore Schools, but children around the country about his experiences with Tourette Syndrome highlighting key messages of tolerance and acceptance. This struck home in the Spring of 2022 when Dylan came back to North Shore to share his country music songs, positive inclusive messages, and news of his record deal with Sony Music with our high school 9-12 students.
Dylan Brady proudly told his young peers that he was signed by Barry Weiss's Record label, a joint venture with Sony Music and that in 2019 shared the stage at the CMA Music Festival with popular musicians including Keith Urban, Lil Nas X, Cody Johnson, and Dierks Bentley. 
Congrats to North Shore Alumni Dylan Brady! He is not only a success but inspiration to us all! His music can be found on Spotify, Apple Music, and many popular digital music platforms.