BUDGET BOOTCAMP & BOE BUDGET MEETINGS
JOIN US! BUDGET BOOTCAMP, TUES., 1/24, MS LIBRARY, 7 PM
Superintendent Dr. Chris Zublionis and Assistant Superintendent for Business Mr. James Pappas along with members of the Board of Education will conduct another Budget Bootcamp in the evening on Tuesday, 1/24, in the MS Library at 7 pm. Dr. Zublionis and Mr. Pappas will be leading conversations to engage community members in the budgeting process. Some of the topics discussed will include how the school district develops the budget, budget drivers, the tax levy, expenses, revenues, and how the LIPA/Nassau County Settlement will impact our schools, residents, and community – to name a few! They will also answer questions.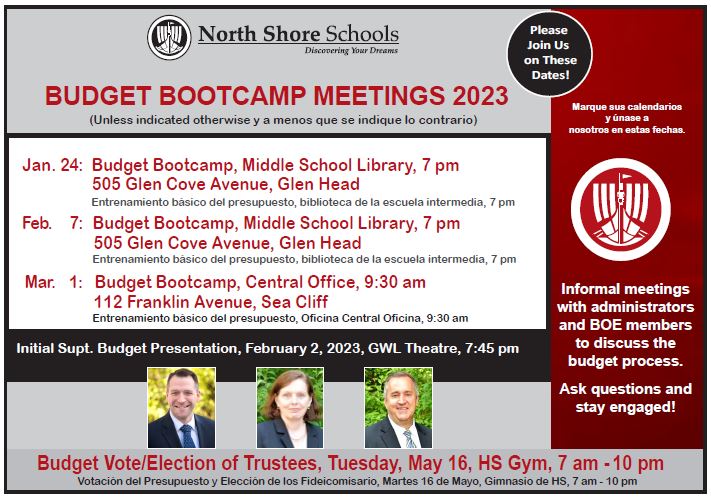 Budget Bootcamp meetings include:
Tuesday, January 24, 2023 (MS Library, 7 pm)
Tuesday, February 7, 2023 (MS Library, 7 pm)
Wednesday, March 1, 2023 (Central Office, 9:30 am) – Added!
In addition, the Board of Education will conduct Budget Meetings on the following dates from February to May 2023 in the Glenwood Landing Auditorium at 7:45 PM (unless noted otherwise):
Upcoming BOE Budget meetings:
Superintendent Initial Budget Presentation, February 2, 2023
BOE Budget Review, February 16, 2023
BOE Budget Review, March 9, 2023
BOE Budget Adoption, March 23, 2023
Meet Candidates Night, April 26, HS Cafeteria, 8 PM
BOE Budget Reading, May 4, 2023
Budget Vote/Election of Trustees, May 16, HS Gym, 7 AM – 10 PM
Other budget discussions with community members and groups will be scheduled in 2023. If you would like to host a budget coffee, please contact Shelly Newman at newmans@northshoreschools.org.
If you would like to be added to the District email list, please subscribe at the top of the website where it says "Update Your Contact Information" at https://northshoreschools.org/subscribe/email_landing.html
Please mark your calendars and join us for these important budget discussions and remain engaged as we look for ways to manage the budget in a way that balances the interests of our students and community. We look forward to seeing you!