NORTH SHORE HIGH SCHOOL NAMED ONE OF THE BEST IN THE NATION            
NORTH SHORE HIGH SCHOOL RECOGNIZED AS A 2021 NATIONAL BLUE RIBBON SCHOOL  in the Exemplary High Performing Category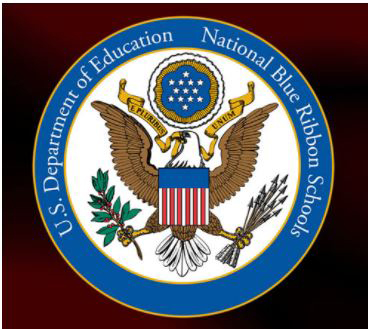 September 21, 2021, U.S. Secretary of Education Miguel Cardona announced today that North Shore High School has been named a 2021 National Blue Ribbon School in the Exemplary High Performing category. North Shore is among 325 public and private schools receiving this honor. Principal Eric Contreras said, "North Shore High School is honored to be the recipient of the prestigious National Blue Ribbon Award. The designation validates and affirms our ongoing exemplary work inside and outside our classrooms. It speaks to our community's commitment to the whole child and personalized learning experiences aligned to our shared values. The dedicated and daily work of our faculty, and the coherent support of our District and the Board in support of our superbly talented students is the bedrock and basis of our Blue Ribbon award. The award is a validation of our dedication to the metrics that matter most; inquisitiveness, intellectual engagement, creativity, artistic pursuits, inclusion and kindness."
"This year's cohort of honorees demonstrates what is possible when committed educators and school leaders create vibrant, welcoming, and affirming school cultures where rich teaching and learning can flourish," said Secretary Cardona. "I commend this school and all our Blue Ribbon honorees for working to keep students healthy and safe while meeting their academic, social, emotional, and mental health needs. In the face of unprecedented circumstances, you found creative ways to engage, care for, protect, and teach our children. Blue Ribbon Schools have so much to offer and can serve as a model for other schools and communities so that we can truly build back better."
The Education Department recognizes all schools in one of two performance categories, based on all student scores, subgroup student scores and graduation rates:
"Exemplary High Performing" schools have their state's highest high school graduation rates and the highest achieving students (the top 15%) in English and mathematics, measured by state assessments.
Exemplary Achievement Gap Closing" schools have made the greatest advances (top 15%) in closing subgroup achievement gaps in English and mathematics over the past five years, measured by state assessments.
Interim Superintendent Dr. Tom Dolan stated, "North Shore High School has long enjoyed a reputation as a premier high school on Long Island. Having the federal government, by way of the Department of Education, offer the Blue Ribbon designation reminds us of the great work done there, and the great teachers, great students and great administration. Congratulations to them all! Dr. Dolan added, "It is a Blue Ribbon Day in the North Shore School District! Congratulations to the students, staff and administration of North Shore High School on this Blue Ribbon award!"
The coveted National Blue Ribbon Schools award affirms the hard work of educators, families and communities in creating safe and welcoming schools where students master challenging and engaging content. Now in its 39th year, the National Blue Ribbon Schools Program has bestowed approximately 10,000 awards to more than 9,000 schools.
National Blue Ribbon Schools are honored at an annual awards ceremony in Washington, D.C., where each receives a plaque and flag to signify its exemplary status. These schools serve as examples for other schools throughout the nation. Principal Contreras and other school officials will represent North Shore High School at a two-day awards ceremony in Washington, D.C., where they will hear from Secretary Cardona and other esteemed educators, share best practices with each other, and celebrate their hard-won achievements.
Up to 420 schools may be nominated each year. The Department invites National Blue Ribbon Schools nominations from the top education official in all states, the District of Columbia, Puerto Rico, the Virgin Islands, the Department of Defense Education Activity, and the Bureau of Indian Education. Private schools are nominated by the Council for American Private Education. For more information about the National Blue Ribbon Schools Program, please visit https://nationalblueribbonschools.ed.gov/