Congratulations North Shore 2021 Valedictorian & Salutatorian
Valedictorian, Sophie Blumenthal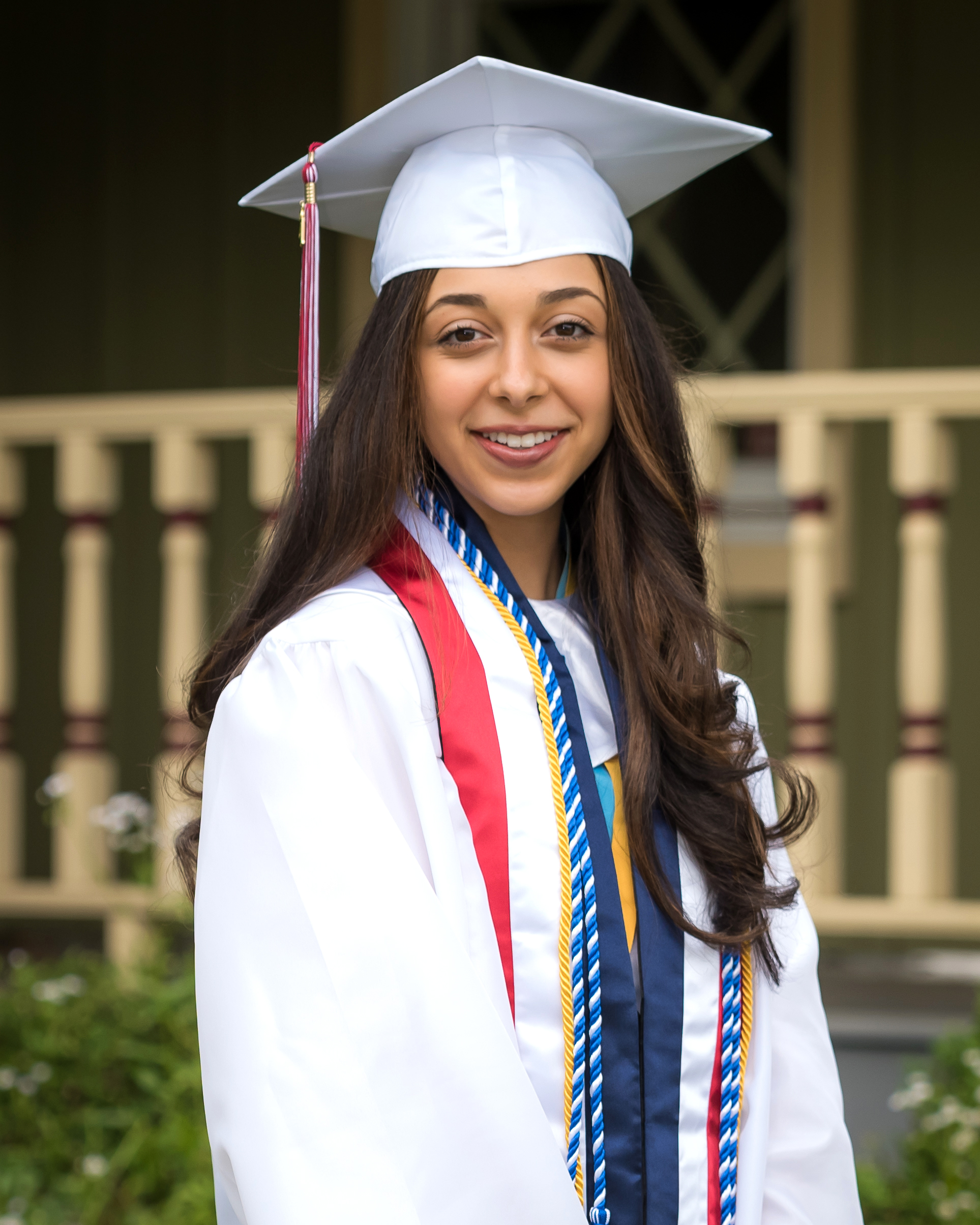 Congratulations goes out to Sophie Blumenthal, the Valedictorian of North Shore High School. On June 17, 2021, she stood at the podium at the 2021 North Shore High School Commencement Ceremony at Hofstra University while her peers, teachers, family, and friends watched with joy and admiration. She said, "We have precious little time here on Earth. It would be a true shame to waste it. When COVID hit, all of a sudden, I had all the time in the world. No school, no tests, no papers. No more getting good grades to get into college to get my perfect career. I suddenly felt this vacuum. In just a few short days, all the expectations from my teachers, my classmates, my family, they disappeared. Many of us were suddenly faced with the question: what do we do with this new wealth of time?
Later in her speech, Sophie concluded by saying, "Soon, we're going to be leaving North Shore, whether that's to go to college, or to join the military, or to start the next chapter of our lives. And, you know what? Where we're going, almost no one is going to know us. There will be almost no expectations. We are about to get a whole lot more control over our invaluable time. Now the question is, what are we going to do with it? As my favorite podcaster Alie Ward likes to say, "Don't be afraid to fail. Cut bangs, text your crush." So take that weird class that has nothing to do with your major. Pick up that instrument you've always wanted to play. Join the intramural badminton team, even if you don't have an athletic bone in your body. Learn sign language. Our slice of existence on this planet is too brief to not take advantage of the opportunities and passions and dreams we have before and within us."
It is clear from reviewing Sophie Blumenthal's extensive list of awards and honors that she has approached every experience of her high school career with hard work, passion, and dedication. Sophie began her North Shore roots as a student at Sea Cliff School. She challenged herself by enrolling in the most academically rigorous IB courses offered in each discipline and was an IB Diploma Candidate. In her time at North Shore High School, she registered for 18 IB/AP courses including IB Physics HL, IB English Language, IB French HL, IB Math, IB WATCH, and AP Calculus BC. For the third consecutive year, Sophie was the President of the North Shore Gender Equity Club where she passionately developed goals and a platform on equity, diversity and human rights. Sophie is a member of the National Honor Society and was recognized as a Commended Student in the 2021 National Merit ® Scholarship Program. During her time at North Shore High School, she has thrived in the arts as a member of the Concert Chorale, Madrigals, Elektra, and Masquers.
Outside of school, Sophie is the founder of the Move the Future Organization. She advised 44 campaigns for the U.S. and State Congressional races in 12 states on how to set up and run student internship programs. She also co-founded the Young Long for Justice Organization, interned for NY State Assemblyman Charles Lavine, and worked on the re-election campaign for Nassau County Legislator Josh Lafazan overseeing 50+ interns.
Sophie will be attending Georgetown University as a Government major in the fall 2021. Everyone at the North Shore Schools is very proud of her many accomplishments and wishes Sophie Blumenthal only the very best of luck now and in the future.
Salutatorian, Kate Weseley-Jones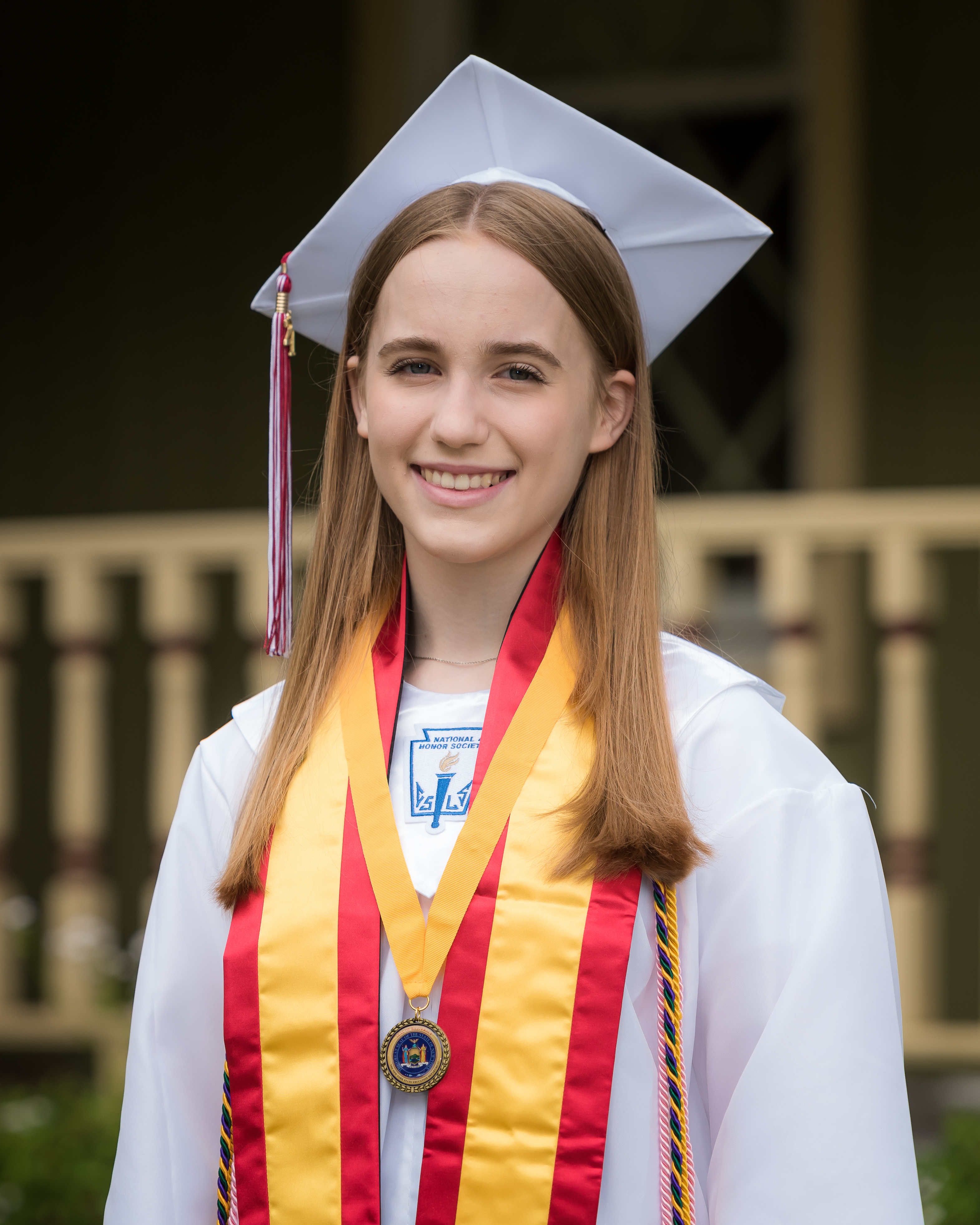 Kate Weseley-Jones stood at the podium as the Salutatorian of North Shore High School and spoke about the topic of expectations. She said, "With the school year winding down, I've been able to take a step back and appreciate all the friendships I've made not just in the past year, or past four years, but the past 13 years. It's crazy to think that this fall will be the first time many of us will be starting a new school year without each other. And, as bittersweet as it is to be at the end of high school, most of all, I never expected to feel this ready to go to college…"
She concluded by saying, "And while I'm sure college and the rest of my life will continue to twist my expectations into reality, I also have the sense of security and excitement for the future that I believe comes from the outstanding educational foundation that we have received. I may not know what the future holds, but the movie we're living through has a happy ending. I'm sure of it."
Kate was also an elementary student at Sea Cliff School. At North Shore High School, she took an array of rigorous courses including 15 IB/AP courses including IB Physics HL, IB English Language, IB Spanish HL, IB Math, IB HOTA, IB WATCH, and AP Calculus BC. Kate has a deep appreciation for the arts and music. Kate is President of the Art Portfolio Club and is the Principal Cellist in the Select Chamber Orchestra and Cello Ensemble and the Principal Pianist in the Selective Jazz Band. She is also the pianist in the audition-only Jazz Band. Math has been a constant source of inspiration for Kate, who is Co-President of the Mathletes competition team. She was recognized as a Commended Student in the 2021 National Merit ® Scholarship Program and is a member of the National Honor Society. She was among the top 300 prestigious scholars in the Regeneron Science Talent Search 2021. She was also a member of the following honor societies at North Shore including the Rho Kappa Honor Society (Social Studies), National Honor Society, Mu Alpha Theta Honor Society (Math), Tri-M (Music) and Science Honor Society. Additionally, Kate has been actively involved in Science Research and had an article published in the peer-reviewed Society of Animals Journal. She has also published on the website Faunalytics and in the Whitman Journal of Psychology and is a two-time Finalist in the national Stemanities research competition.
Kate will be attending Princeton University in the fall 2021.
North Shore High School Principal Eric Contreras said, "It has been a pleasure getting to know Sophie and Kate. They have both impressed me with their hard work and dedication to our school. The Valedictorian and Salutatorian carry a very special distinction for the school and the student body. I could not think of two more deserving students to carry the message, voice, and aspirations of the class of 2021.
Best of luck to both Sophie Blumenthal and Kate Weseley-Jones! Everyone at the North Shore Schools are all so very proud of both students and congratulate them for their dedication, passion, courage, and talent. This is only the beginning and we celebrate you and the entire North Shore High School Class of 2021.
Photo Caption: Article by Shelly Newman Photos by Adrienne Daley