North Shore Students Visit Cohen Children's Medical Center
For the past 30 years, students of North Shore High School have visited the Cohen Children's Medical Center in New Hyde Park bringing toys collected from the entire school district. This event was created by Dr. Robert Gerver, a Math Teacher at North Shore High School for over 30 years. Upon his retirement in 2016, this tradition was carried on by the North Shore Key Club. 
To make this event special, the Chamber Orchestra also attended this gala event in late December 2017 with Director Jason Domingo and his talented group of musicians, who entertained the patients as well as the staff at Cohen. The students in the North Shore Chamber Orchestra included Christine Ramirez, Katelyn Hoyle, Zoe Goodstone, John Yun, Allison Markasevic, William Novikov, Lauren Santucci, Emma Sorenson, Angelica Abbondandolo, Richie Sun, Alexa Brumm, Isabella Fuentes, Michael Santucci, Hannah Crabb, John Labbate, Helena Yun, Danielle Forssett,Hanah Leventhal, Caroline Schwab, Kayla Sorensen, Olivia Bross, Isabella Ham, Sierra Hiner, Kate Weseley-Jones, Jamie Holzmann, Jeremy, and Oliver Nester.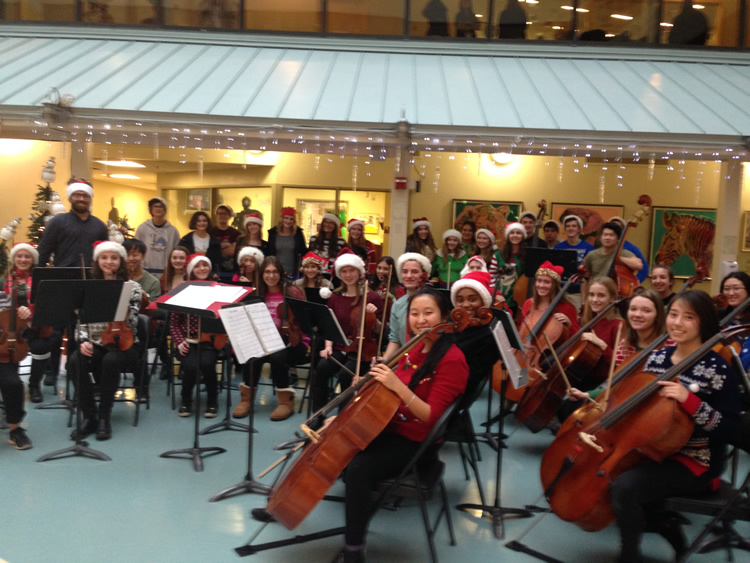 In addition, many thanks to the Key Club Members including Michael Albanese, Corinne Heffernan, Zoe and Zackery Malin, James Mastakouris, Gene Alvarez, Alexis Loviglio, Robery Sharkey, Claudia Scala, Juliette Alfarone, Gillian Neos, Mia Daly, Eileen Quinn, April Rowell, and Andrew Jacklin for continuing this wonderful tradition over the holidays.
Article and photos provided by Julia Salat